Sydney's Thumb favors expeditions, programs and tours that meet the following criteria:
Ideal Features

promote Green Travel Criteria
include quality educational component
include meaningful volunteer opportunity
offer a good deal
provide chance for individual exploration and reflection
minimal habitat impact
not highly energy-consumptive
well organized and run
respect local economy and indigenous culture
offset greenhouse gasses
**recently reviewed as "Parker's Pick"
Observe Orcas and Other Whales on Puget Sound
For a breathtaking landscape, it's hard to beat the San Juan Islands in Washington State. Joining renown marine biologists, you'll experience a terrific mix of personal observation, retreat to nature and excitement. Watching orcas playfully porpoise and dive, raises your heart beat and makes you realize how important it is to save these threatened species. Friday Harbor is also a great place to tip a beer and tell your favorite fish story.
From the Sponsor
From the Sponsor: Haro Strait, Puget Sound, Washington - If you want to know how healthy an ecosystem is, you need only look as far as the top predator. Last year, resident orca whales in the southern Puget Sound apparently stabilized their population size after nearly a decade of population decline. The levels of PCBs and other toxins found in the tissues of these whales are higher than those found in cetaceans from the most polluted waters in the world. Nearly half of the salmon runs that the orcas depend on are threatened with extinction, and industrial development of watersheds continues. What are the ecological limits of orcas and their marine community? You can help Ken Balcomb and Dr. Astrid van Ginneken (Erasmus Universiteit Rotterdam) continue their long-term research on orcas to put a finger on the pulse of ecosystem viability.
On the Expedition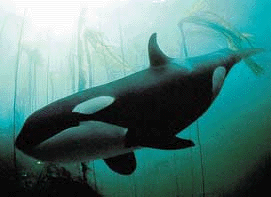 You will rotate with other team members between working on shore and patrolling in boats to look for orca pods and observing their behavior in and near Friday Harbor. Once your crew finds a pod, you'll note weather, location, other boats, and prey, and in Balcomb's words, "experience the magnificence of whales doing what comes naturally as best they can in the modern world." You'll learn to photograph each orca's fin and saddle (the uniquely shaped whitish area behind the fin), and record its vocalizations with hydrophones.
Meanwhile, the shore crew will match new photos with a catalogue of hundreds of individual whales seen previously. In your spare time, there is plenty of beach-combing, hiking, clam-digging, berry-picking, and frisbee-golf to be had.
Meals and Accommodations
Volunteers stay in a three-story home on a hilltop surrounded by old growth forests, and with a spectacular view of the water. The house has four bedrooms and one and a half baths. You'll help yourself to simple breakfasts and sandwich lunches, and assist staff in preparing dinners, including American fare with your own special flare. Everybody helps clean up. There are also several restaurants available for a change of scene, at your own expense.
Rendezvous
Friday Harbor, San Juan Island, Washington, U.S. Contact sponsor for other details: www.earthwatch.org